My day off this week was a Tuesday, so I got to drop by the comic shop a day before the new releases dropped in. Which, considering how much I spent anyway, is probably a good thing. Also,
Dawn of the Planet of the Apes
was excellent, although not quite as strong as the previous film. Which you all know by now, because you saw it when it came out. Anyway, cautiously looking forward to the third installment, which I'm guessing is going to be called
War for the Planet of the Apes
.
Moving on...
Captain Marvel
#6 (Marvel)
Marvel really do seem to be trying to make a name for themselves as the company for strong female
characters, and in spite of some missteps, they're doing reasonably well there. This is the final installment of the inaugural "Higher, Further, Faster, More" storyline, and brings everything nicely to a head, with plenty of action balanced by some clever diplomacy and a benevolent use of surveillance. With a notable exception or two on each side, this is squarely noble females vs. imperialist males, with a none-too-subtle swipe at military and police brutality. Still, strong stuff, and I think I'll continue with this title.
Ghostbusters
#18 (IDW)
Continuing the "Mass Hysteria" storyline, this isn't the strongest issue, very much a case of joining part 17 to part 19 and not really doing too much of its own work. Still, bringing Vigo back for an issue is a fun hook, the inclusion of the Spider-Witch from the game as an avatar for Gozer is very cool, and the character work is just spot-on perfect now. Particularly nice is an interlude featuring Winston's wife Tiyah and her sassy friend Kas, which is a welcome pause in the crash-bang-pow.
The Sandman Overture
#3 (DC/Vertigo)
Wow, is it time for issue three already? Good grief, it's only been six months since part two! Anyway, yes this is fine, still not really living up to the name of
Sandman
, but the gradual development of a vast cosmos full of iterations of Morpheus is quite fascinating. The big problem is probably that
Sandman
is best read as a book, and individual issues, especially when they're separated by months, is a poor way to read it. Not sure about the new character, Hope - she strikes me as a generic cute, feisty-in-the-face-of-tragedy kid. J.H. Williams's art is gorgeous though.
Wolverine and Deadpool
#2 (Marvel/Panini)
First British bumper re-release of the month's reviews. The "Savage Wolverine" storyline is already getting a bit dull. Giant gorillas? Cliches can be fun and all, but come on. I find Amadeus Cho a very dull character, I could take Shanna a lot more seriously if I couldn't see where her thighs meet her crotch, and the witchdoctor character is pretty racist. Also, the Hulk is in it for some reason. The Deadpool dead presidents story is much better, finishing up with a bold, sick, over-the-top battle with a guest spot by an extremely camp Dr. Strange. Altogether, needs less Wolverine and more Deadpool.
Batman Arkham
#9 (DC/Titan)
And this is the other one. I want to get back into Batman, but DC are currently publishing a hundred and thirty-two different Bats-related titles, so the UK bumper comics are by far the best way to get back up to date. This collects
Arkham Unhinged
#10,
Batwoman
#17 and new
Detective Comics
#17. The former is a fun weird-ass villains get-together that brings Deadshot into the mix, while the latter is the final part of a very stylish fantasy adventure for a strong female team headed by Batwoman and Wonder Woman against the villainous Medusa. It's J.H Williams again, writing as well as painting this time, and it feels more like
Sandman
than the new
Sandman
does. The middle strip is the first part of an intriguing mind-fuck story called "Gothtopia," and it's sufficiently interesting to make me want to buy issue ten.
Amazing Spider-Man
#5 (Marvel)
Apparently this is part of the
Original Sin
crossover event, but as I have read none of that, I have no clue how it ties in. I like where their going with this, with the new Spider-powered hero Silk providing an equivalent to Spider-Man with stronger powers and a more interesting backstory. Inevitably, this will all tie in to the upcoming "Spider-Verse" crossover which is already warming up, but the Black Cat vendetta storyline is pretty great. It's a shame it ends with a very tired cliffhanger, which we've all seen before.
Inhuman
#3 (Marvel)
Still looks great, still enjoyable enough, but it's nothing special. Inhumans are basically just X-Men with a different power origin, and you can't blame Marvel for wanting to push them. If they can generate enough interest for a movie version they'll have their own equivalent to Fox's
X-Men
franchise. Dante is enough of a dick to be just about likeable, even if he picks the codename Inferno. (Seriously?) Sounds like more interesting developments might be on the way though.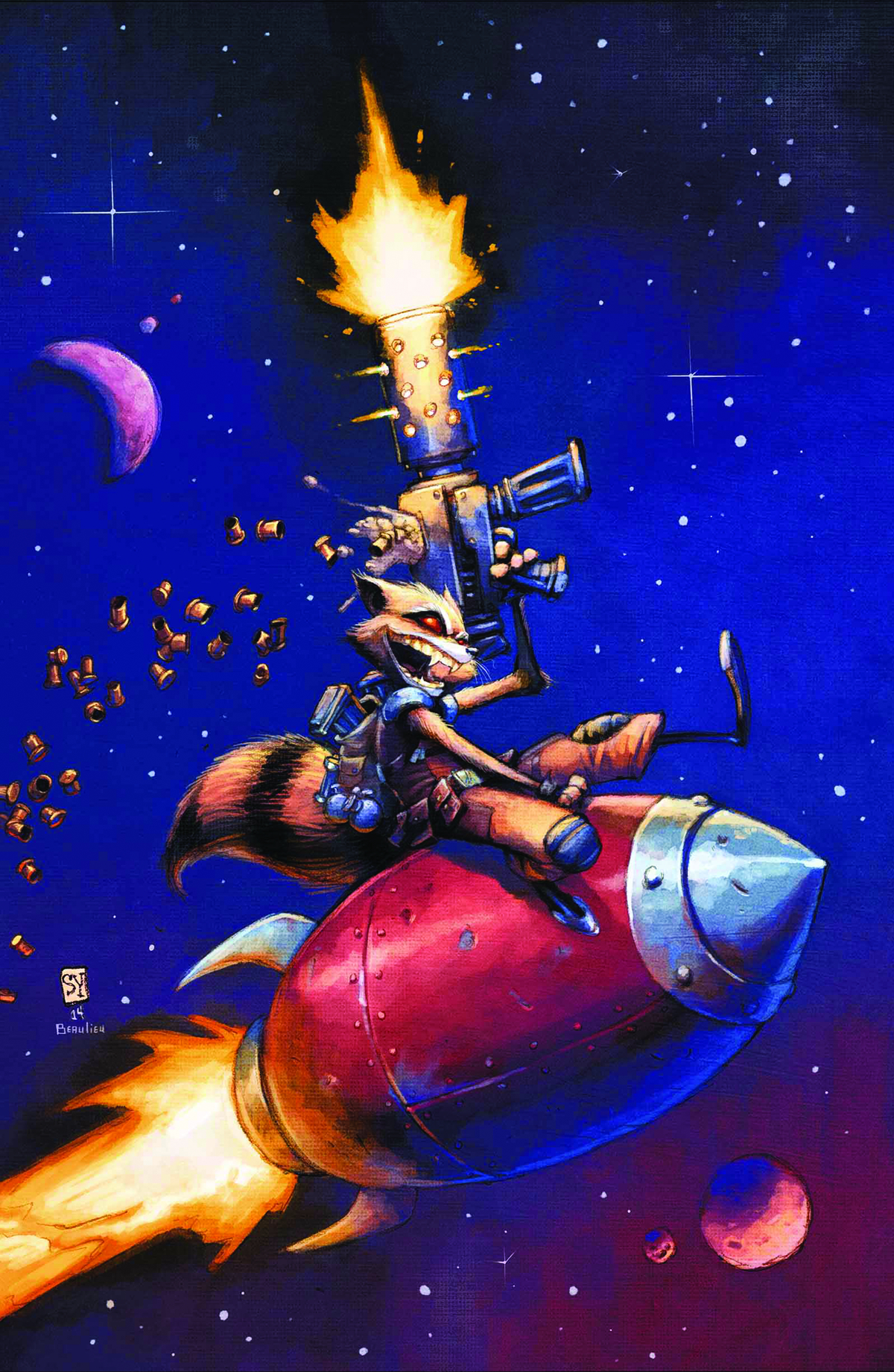 Rocket Raccoon
#2 (Marvel)
Chaotic, silly nonsense, but great fun. Umming over whether to continue this or switch to the
Guardians of the Galaxy
series (there's
Star-Lord
now too, and
Captain Marvel
and
Iron Man
all tie in). It's a comedy title, and it made me laugh, so it's done it's job. If anything, it reminds me most of
Earthworm Jim
. Seriously, look at that cover and tell me you can't hear the "Andy Asteroids" music. Whoah Nellie!