While
Picard
is the big news, there's plenty more
Star Trek
coming in the new year.
Discovery
is heading to season three, now over a thousand years in our future in the 32nd century. We don't know much, other than there's a new regular character called Book, played by David Ajala (Manchester Black on
Supergirl
), and that the
Disco
crew don't make it to safety on planet Terralysium. I;m looking forward to breaking away from the 23rd century and seeing a whole new era of the
Trek
universe.
However, for those who want to see more of the recognisable universe,
Short Treks
is back with six new episodes. The trailer above tells us something about the first three, which give us more time with the
Discovery
version of the original
Enterprise
crew. Looks like we'll get to see Spock's first day on the
Enterprise
- and yes, he's shouting his head off (altogether now - "THE WOMEN!") It's good that we get to see more of Rebecca Romijn's version of Number One as well, and any more time spent with Captain Pike is worth your time. Plus, a tribble episode, with
Archer
's H. Jon Benjamin of all people. Looks like I might get
Archer Trek
after all.
The remaining three episodes include a
Picard
introduction, and two animated episodes. Whether these tie into a particular series in uncertain, although they may be related to the upcoming animated series
Lower Decks
. This is reported as a series of half-hour episodes set on the USS
Cerritos
, a
California
-class starship - a new one for the franchise. We'll follow four ensigns who try to keep the ship running. Rutherford in particular sounds fun - a cyborg who's basically described as a shit Geordi la Forge (so, just like Geordi la Forge then).
Left to right are Tendi, a medical officer (a new alien species perhaps?), Rutherford, Beckett (further art shows her wielding a
bat'leth
) and nervous Boimler. Then we have the bridge crew (including a Caitian as chief medic, it appears). 90s favourite Jerry O'Connell's on the cast - haven't seen him on anything for a while.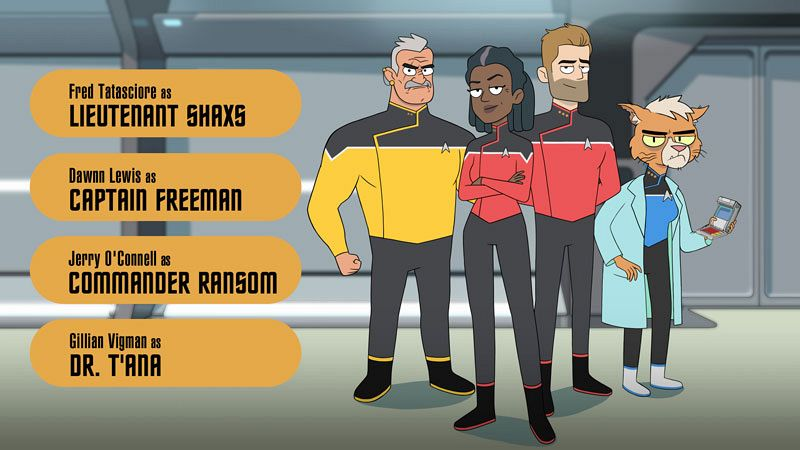 It'll be interesting to have an out-and-out comedy in the
Trek
universe, but we've seen various series manage comedy well in the past (particularly
DS9
), and I have high hopes for this one. As yet, no more information on the other animated
Trek
series, the Nickolodeon-based adventure show aimed at kids, and it sounds like that's still very early in the planning stages.