The Wicked & The Divine #13 (Image)
We finally get to meet Tara, and the results are devastating. A straightforward but powerful
examination of the disgusting culture of male entitlement we live in and the continual verbal abuse online that female celebrities and commentators have to face every daily. The central double-page spread is just a Twitter feed, and it's harrowing. I wouldn't be surprised if half of that shit actually
came from real people's accounts.
Nonetheless, it still moves the overall plot forward. Things are getting very tense amongst the Pantheon. And Tula Lotay's art really does fit the series. Just stunning.

The Shadow, Vol 2 #1
The Spirit #2 (Dynamite)
Dynamite kick off their newest run of
The Shadow
(well, sort of, there was an issue zero as well), while
The Spirit
continues. Nothing complex here, just some classic-styled pulp era crime fighting. Ebony's search for the Spirit takes leads him to the eloquent but cruel Mr. Carrion, illustrated in a fun, cartoonish style by Dan Schkade. The opening page is classic Spirit. Overall, though, I think I preferred the Shadow's return, heading into dark territory concerning a corrupt circle of magicians. Giovanni Timpano's artwork is spot-on. And issue one is only a dollar, which is nice.
Doctor Who - Four Doctors #1 (Titan)
The first part of a weekly event, running alongside four monthly series (not to mention the Panini and BBC magazines). There's a lot of
Doctor Who
in the comics world right now. However, this is really excellent. Not only brilliantly written, but it feels like an event. There's a bit of fanfwank in there, with author Paul Cornell rifling through the early days of the series as well as his own back catalogue. but that's par for the course with this sort of thing, and he handles it with wit and creativity. In any case, it's always good to find someone as fond of
The Keys of Marinus
as I am.
Clara, Alice and Gabby work beautifully together, but the highlight is, of course, the meeting of Ten, Eleven and Twelve, full of narcissistic bickering, just as it should be. Sometimes it seems like multi-Doctor interactions must be easy to write, but making a story work around it is the hard part. This is before
The Day of the Doctor
for both Ten and Eleven, making them both a long, long time before Twelve, who in their eyes, shouldn't exist at all, since they know they don't have enough regenerations left for him to come to be. Plus, a prelude featuring the John Hurt Doctor in the midst of the Time War. It's a tough call, but I'm going to wait for the trade to come out rather than spend £2.50 every week for this, and this really is something I'd like to own in book form.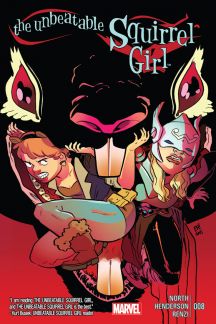 The Unbeatable Squirrel Girl #8 (Marvel)
Best news all week - Squirrel Girl
is
coming back after Secret Wars is over. So that's one hell of a
relief, because this makes me laugh every single month. Except last month, when I missed it. So I was a little confused to see the Avengers fighting Doreen under the control of a gigantic Asgardian squirrel god. And on top of that, Nancy in Asgard. Plus, Loki totally flirting with Nancy. Nancy should be in the Avengers with Squirrel Girl.
Also: Cat Thor!
Avengers Universe #16 (Marvel/Panini)
I'm getting one more issue after this, to see out the
Young Avengers
storyline. This is really getting fun now, with Wiccan, Loki
et al
getting ready to save poor Teddy from the clutches of the Mother entity. Prodigy's ingenious solution to facing a being that can control any parent and is essentially invisible to other adults is to get on Facebook and Twitter and call on pretty much every teenaged hero in the Marvel universe (and blimey, there're a lot of them) from Spider-Girl to White Tiger to Evan Apocalypse. And it looks simply gorgeous, too.
Mighty Avengers
, on the other hand, is perfectly enjoyable this month but nothing special; plenty of monsters and scrapping but it's very much a wham-bam instalment rather than anything substantial.
Uncanny Avengers
is back, balancing barely coherent melodrama with completely incoherent temporal mechanics. I really don't go for Sanford Greene's artwork either. And to think, people are writing in to complain about
YA
taking up valuable core Avengers space. Some people have no taste.