Patterns of Interference is the fifth novel in the Rise of the Federation series, Christopher L. Bennett's sequence of adventures for the characters of Star Trek: Enterprise. The series charts the earliest events of the United Federation of Planets through the 2160s, both following on from threads from episodes of Enterprise and working backwards from various historical bits and pieces mentioned in other series.
Previous novels in the series have followed up on the deadly technological threat from "Dead Stop," named by Bennett as the Ware, which has been neutralised with unforeseen consequences for the local galactic neighbourhood. First contact has been made with the planet Sauria but Federation trade with the despotic Maltuvis has led the planet into political chaos. The Rigel system has joined the Federation, but this itself has led to political fallout among such powers as the Orion Syndicate and a breakout movement from the Malurian system. It's fair to say that in a few years the UFP has made a big impact in local space, but frequently with unpredictable consequences.
This lies at the heart of the novel, as Admiral Jonathan Archer campaigns for the creation of a non-interference directive to prevent reckless meddling in the affairs of other peoples. Don't expect to see the founding of the Prime Directive here, though; Bennett understands that policy decisions like this take years to come into effect. Archer has to deal with both logical and impassioned pleas against non-interference, including from his enemy-turned-friend Shran. Meanwhile, other organisations have a vested interest in Starfleet becoming so shamed by its interference that the Federation retreats into isolationism. Multiple factions play against each other, in a plot that increases in complexity as different characters come together at the hotbed that is Sauria.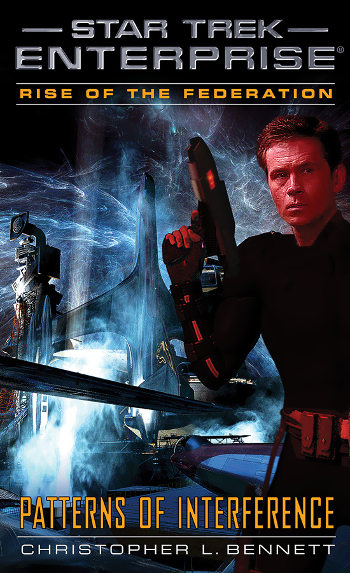 Bennett's prose is always a pleasure to read. He knows how to spin a good adventure. There's also a good deal of social commentary in his work, and this novel is no exception, as the author uses futuristic situations as a commentary on contemporary issues in true
Trek
style. There are memorable instances on gender politics that see characters comment on how movements for equality can easily be reversed when society becomes more insular. While they're talking about colony worlds with a vested interest in keeping their populations growing, it's a comment on the shifts both backwards and forwards in gender politics today, and also an attempt to make sense of the sexism displayed in some episodes of The Original Series. In another plotline we spend time with Maltuvis, an idiotic, narcissistic tyrant who has come to power due to his wealth and by turning his people against minorities, a none-too-subtle pop at a certain president currently dominating the news.
All manner of characters from Enterprise and beyond turn up in this series and many of them are present in this book, all working to their own ends. While Archer pushes his political agenda, he is contacted by Trip Tucker, alive and working for Section 31 as per the novel The Good That Men Do. The two of them along with Captain Malcolm Reed, now of the USS Pioneer, put plans into place to bring down the clandestine organisation from the inside. Meanwhile, the Orions, led by the alluring three sisters introduced in Enterprise: "Bound," conspire to interfere with Sauria themselves, with agents that include the Malurian Garos (from Enterprise: "Civilization") and the Orion woman Devna (from TAS "The Time Trap"). Furthermore, there are roles for the crew of the USS Essex, the ancestors of one James T. Kirk and a member of the Paris dynasty. There's a real risk with works like this of small universe syndrome, but Bennett pulls it off with panache.
Although there's an overall optimism in the Rise of the Federation series, there's something rather doom laden about Patterns of Interference. In spite of everyone's best efforts here, Section 31 will live on to threaten Federation ideals in the future (both in the primary and Kelvin timelines). Garos's actions are for the good of the Malurian people, who will be rendered extinct off-screen in the TOS episode "The Changeling." According to the TNG episode "Power Play," the USS Essex will be lost with all hands at Mab-bu VI. Knowing the future of so many characters and groups makes casts a shadow over much of what happens here.
While all of this is going on, T'Pol and Hoshi, now of the flagship USS Endeavour NCC-06, are sent in to assist a group of boomers who have landed on a planet where plant life dominates. There a species of tree-like organisms dubbed dryads show potential as a source of medical compounds but also signs of sentience, and Hoshi is tasked with trying to identify their linguistic abilities. It's an interesting, pure science fiction storyline that feels somewhat divorced from the main events, but remains relevant to the ongoing questions of involvement with other worlds.
Rise of the Federation has been a strong line since its beginnings, and Patterns of Interference is one of its strongest instalments.